Training
Wazir executes industry and corporate training programmes funded by Government bodies, private companies and international development agencies across levels of hierarchy. Whether it is to provide training to freshers or to existing workforce for upskilling them or to qualified professionals to hone their employable skills, Wazir covers the entire spectrum of skill development. We believe that imparting actual training is only one component of the overall skill development process. Hence, we invest significant time and effort in pre and post training activities to complete the full cycle of skill development along with its realization.
The key areas of our involvement include: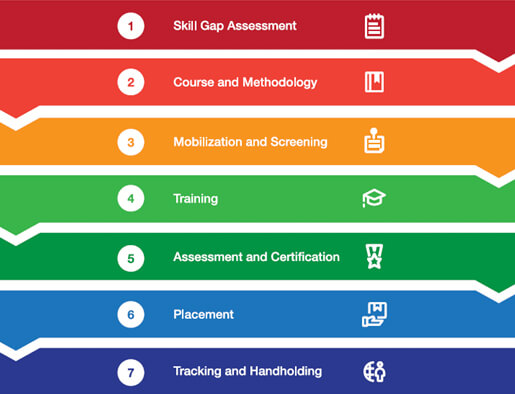 Prior to actual training, we assess the industry requirment and existing skill gap to adopt most suitable course curriculum content and methodolgy. Another important task is to identify the right trainee. Our mobilization team continuously monitor the catchment areas for potential candidates who are then taken through a screening process before enrolling to check their seriousness as well as ability to function in the targeted role. While the candidate is getting trained, we continuously monitor the level of involvement and outcome using latest IT based tools and techniques. After successful completion of the training, each trainee is assessed and certified by a third party. Wazir then leverages its industry network to ensure appropriate placement for certified trainees. During initial period of their employment, we track our trainees through regular interaction and handhold them to ease the induction process.
As a step towards creation of sustainable skill development model, Wazir's emphasis is to empower one person who in turn can empower ten more. For this, सशक्त encompasses separate modules for Training of Trainers to create a snowballing effect. Another aspect, where सशक्त differentiates itself from traditional training methodologies is the training of middle and top management. A lot of focus is provided to workforce and supervisory trainings but beyond that there is a huge gap which is seldom acknowledged and addressed in the industry. Taking cues from globally successful skill development initiatives, Wazir has specially crafted modules for middle and top management training as well.